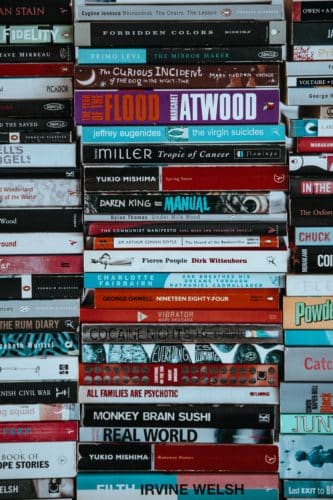 It's festival time and Edinburgh is bursting at the seams once more. Given Hot Tin Roof's proximity to the Book Festival it seems fitting to share some tips on what is on offer from our neighbours at Charlotte Square.

It often seems that Book Festival events are sold out so far in advance that it is near impossible to get hold of tickets for top notch events once the festival is underway so, in the light of this, we have highlighted a few of the many standout events for which tickets are still available.
UNBOUND Thursday 24 August
Believe it or not, some of the most exciting and talent filled Book Festival events do not require a ticket at all. The literary themed late night events that comprise the Unbound series are free and unticketed, though beware – they are so well billed you might want to get there early to be sure to get in.
We love the look of Paul Muldoon's evening: not only is the evening hosted by prize winning poet Muldoon himself, he's to be accompanied by his house band Rogue Oliphant (including Cait O'Riordan of The Pogues), singer-songwriter Lisa Hannigan, writer Bernard MacLaverty and Scottish poet Don Paterson. Rarely seen outside of New York, Muldoon's Picnic has been described by Time Out as a 'music and literature extravaganza'.
STOP ALL THE CLOCKS Saturday 26 August
Acclaimed author Simon Garfield will be discussing his latest book Timekeepers: How the World Became Obsessed with Time. With such a pertinent observation of the modern day, this sounds like it could be a brilliantly engaging event. Just don't be late!
IN SEARCH OF SANCTUARY Friday 25 August
Aren't we all at festival time?! But on a serious note, the Amnesty International Imprisoned Writers' series showcases writing by authors unable to present their to an audience themselves. The In Search of Sanctuary event has the work of imprisoned writers by festival authors including Nicola Barker and Marcus Sedgwick. Tickets to Amnesty events are free and available on the day.
WRITING AROUND THE MUSIC Saturday 26 August
This sounds like an intriguing exploration of how music can inspire fiction writing. David Mitchell, author of Cloud Atlas, speaks with Hari Kunzru whose new book, White Tears, pays homage to American music and the Delta Mississippi Blues, while weaving a ghost story, a murder mystery and a contemplation of race into one.
STALKED BY DEATH Sunday 27 August
An event for anyone who sometimes contemplates their own demise. Cheery – no. Intriguing – maybe? Robert McCrum is one of those people. He suffered a near fatal stroke in 1995 and has since sought out commentators to bring some clarity to the subject. He discusses his writing – which includes conversations with medical professionals and the terminally ill – with former Bishop of Edinburgh Richard Holloway. Could be enlightening!
Full details of all events are available at www.edbookfest.co.uk