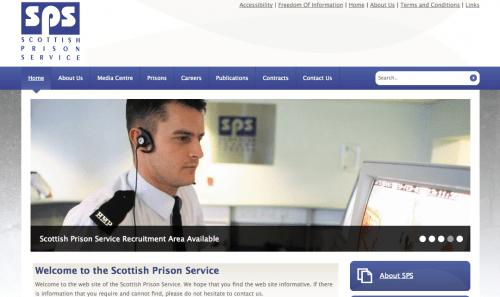 C2 Software today announce the launch of The Scottish Prison Service's (SPS) new website. Aimed at improving the flow of information from the SPS and raising awareness of its work, the site will be used by a broad audience including the public, media, politicians and support organisations.
Designed and built by one of Scotland's leading web developers, C2 Software, the website was delivered ahead of time and on budget. Powered by C2's flagship content management software, Activedition, the website was developed specifically for the non-technical user. This means any authorised member of staff can contribute content and create, update and publish pages giving SPS full control, in real time, over this critical channel of communication.
The new website will enable SPS to raise awareness and educate key audiences about its roles and responsibilities including its work to reduce re-offending, rehabilitate offenders and give them the skills needed to reintroduce them to society. The site includes sections with information about various aspects of prison life including news, public contracts, recruitment, various publications, guidance on the freedom of information process and monthly expenditure.
The site has a dedicated page for each prison providing visitor information. C2 also delivered a mobile web application that smartphone users can use to find contact information for each of the 15 SPS establishments.
Critical to the success of the project was C2's deployment of a robust mechanism for the SPS to update the site regularly with new content and archive old content as Tom Fox, Scottish Prison Service Head of Corporate Affairs explains: "Our website needs to work hard for us and it was important that we work with a company which has a proven track record for delivering websites that are easy to manage and maintain as well as being accessible and usable.
"C2 were highly professional and responsive to our needs. They were particularly helpful at identifying issues we might not have been aware of and coming up with solutions to help us work around any problems."
Providing e-business solutions that enable collaborative content and the integration of enterprise systems, C2 Software has built a powerful reputation as one of the earliest pioneers of web content management systems in the UK.
From consultancy to implementation, C2 Software specialises in CMS and its flagship software Activedition powers the websites and intranets of global and national organisations including Herbalife, Maclay Murray Spens LLP, Aberdeen City Council and the Royal Mint.
Finlay Carmichael comments: "We are extremely proud of the site we have created for the SPS. We knew they needed a website that could easily be kept up to date and would be a valuable resource of information for a diverse user group as well as communicating clear messages for the organisation. We believe we have succeeded in achieving our goals and know that we have delivered a website that can grow and evolve with the changing needs of the SPS."
Employing around 4000 staff and managing a typical daily population of 7,900 prisoners, Scottish Prison Service operates 15 establishments across Scotland, a training college, a central storage facility and a headquarters in Edinburgh.
Ends
For more information contact Lauren Cormack
About C2 Software
Headquartered in Dundee and with offices in London, C2 Software has pioneered the development of content management systems (CMS) since 1997.
Today C2 Software's flagship CMS product Activedition underpins hundreds of websites and intranets including global and national organisations like NCR, Maclay Murray Spens LLP and the Royal Mint.
A Deloitte Fast 50 award winner for four consecutive years, C2 Software also gained a place in the European Deloitte Fast 500 which recognises the fastest growing technology companies in the UK and Europe.
C2 Software is a Microsoft Certified Partner.
About SPS
The Scottish Prison Service (SPS) is an Agency of the Scottish Government and was established in 1993.
SPS has 13 publicly managed prisons and 2 privately managed prisons.
These prisons are managed by the Chief Executive who chairs an internal board which comprises Non-Executive Directors appointed by Scottish Ministers and Executive Directors. The Executive Board supports the Chief Executive in providing leadership, direction and control.