EdgeCase has developed a fundraising app that tackles the problem of team motivation and aims to transform fundraising. The Go Team Go app enables participants of the Maggie's Monster Bike and Hike 2012 to motivate their team, track their progress, share through social media, and promote the charity.
Maggie's Monster Bike & Hike is an outdoor adventure in the Scottish Highlands where teams have 24 hours to complete their chosen bike and hike challenge. An average of 1,000 people attend every year to raise much needed funds for Maggie's Centres.
EdgeCase is an Agile company specialising in rapid sustainable development of mobile and web applications. As part of the organisation's creative values and culture, it sets a certain amount of time aside for developers to pursue their own innovative projects. In this time Software Artisan, Peter Aitken, chose to develop a web app for Maggie's to help encourage participants and aid fundraising efforts.
Peter Aitken of EdgeCase explains: "I had taken part in the 2011 challenge with a team of five friends, and discovered that there was no easy way to track progress and successfully motivate our team. We needed a tool to aid this process and Go Team Go was the solution."
Users simply sign up to Go Team Go, enter their team names and link up to their Just Giving page. The dashboard details each individual's training schedule for the week. Email alerts remind each team member of their training targets and remind an individual if they haven't logged their details for that week. These features help the individual and the team to achieve goals and raise more money for the charity.
The app also has the option to share each teammate's progress on social networking sites such as Twitter and Facebook, which helps to raise awareness of the cause, without participants having to directly ask people for money, which can be uncomfortable.
Peter explains: "No one likes asking people for sponsorship money but by sharing progress and involving those who are not actually taking part, you build support for your challenge and make sponsors feel part of the team. This makes it easier to collect the funds. I'm sure Bike and Hike participants will love it and use it to raise even more money for Maggie's."
George Bushell, Events Manager at Maggie's, says: "We are really excited about the new app and we think it's a really positive tool to aid our work. We believe it will really support our Monster fundraisers and we look forward to hearing the feedback from its users."
Go Team Go can be found at http://goteamgo.org/.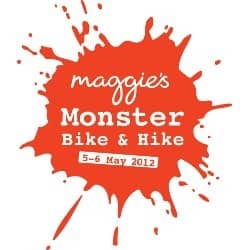 For more information contact Lauren Cormack.