With the 'Saharan bubble' currently bringing soaring temperatures across the UK and Europe, us Cats have set our sights firmly on the summer ahead.
As any Edinburgh local will agree, one the best things about summer in this fair city is, without doubt, the Fringe. Because is there anything bigger or better than 'The Festival'? No, we didn't think so!
From music and art, to comedy and theatre, the world's largest arts festival is returning to Edinburgh again this August and will bring with it throngs of tourists from far and wide.
With over 300 venues and 4000 acts to choose between, it can be quite a whirlwind deciding who to see. To help narrow it down, here's some of our favourites to watch out for this year:
As the birthplace of J.K Rowling's first Harry Potter book, Edinburgh is the perfect place to watch this hilarious act. The play is completely improvised and the content changes daily, meaning that it never gets old. Winning the Scottish Comedy Award in 2018 as Best Variety Act, this play is a prerequisite of the Edinburgh festival experience.
Performing in the city's meadows is adventurous cabaret act, Little Death Club. This act combines dark humour with punchy jazz-punk music and sensational circus performances. From fire breathing to bearded ladies, it is a truly extraordinary experience.
Brought to the Fringe by four brothers, the Chang Dance Theatre put on a soulful show addressing the challenges of fraternal male bonding. The performance is based on the rhythms of boxing and is set to be an awe-inspiring act.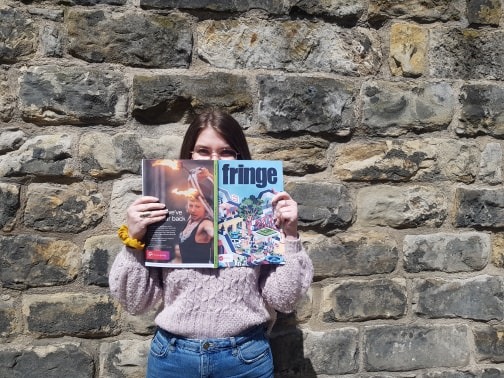 As a fairly new comedy act, Rosie Jones comically addresses perceptions of her cerebral palsy, begging the question "am I backwards, or are they?". Selling out her debut show at last year's Fringe, the comedian returns this year with more hilariously honest comedy.
Endorsed by BBC Radio 6 Music, Nick Harper has been described as the "Acoustic Hendrix". Coming to the Fringe is his new show 58 Fordwych Road, which is centred on a small flat in 60's Kilburn. Being the son of legendary folk-rock musician Roy Harper, Nick is inspired by his deep folk roots and really knows how to captivate the audience.
Forensic mind-reader, Colin Cloud returns to the Fringe this year with his new show Sinful. This occult act listens to the whispering in your head, revealing whether you are a saint or sinner. Having been voted in the top three of over 4000 acts, Cloud is internationally renowned for his thrilling performances.
Have we forgotten any unmissable acts in our Hot Tips? Whether you're looking to get the full on belly laughs or hear some new music, the Fringe has you covered.
Stay tuned for more Hot Tin's Hot Tips coming soon.
Need PR? We'd love to hear from you. A cuppa never goes amiss. Get in touch here.