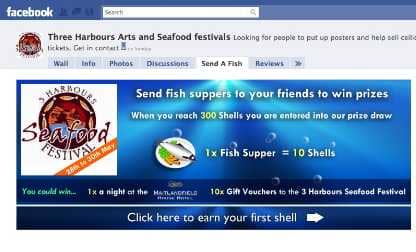 Three Harbours Seafood Festival has launched a Facebook app allowing users to send their friends a fish supper. And the more suppers they send, the tastier the suppers get, as users unlock higher levels.
And so the seafood guzzling facebookers move through the levels from plain old fish supper, to a monkfish super, onto mussels' supper and then a langoustine supper, from salmon supper to a shark supper before finally reaching the ultimate – a lobster supper!
Everyone who reaches the top level of a lobster supper will be entered into a prize draw with the winner chosen at random on Wednesday 26 May.
The top prize is two tickets to the Italian seafood banquet at The Prestoungrange Gothenburg plus overnight accommodation at the Maitlandfield House Hotel in Haddington on Saturday 29 May.
But there's something for everyone taking part and every week 3 Harbours is giving away two £10 seafood festival gift vouchers to friends playing the fish supper game, no matter what level they are on, in the run up to the festival opening on Friday 28 May.
Adele Conn explains: "We wanted to do something fun for all our friends on Facebook that would also help spread the word about eating healthy seafood and hopefully get people to put the weekend of 28 May into their diaries And who can resist a fish supper!"
Scotland's seas teem with the best seafood in the world and Three Harbours wants to get Scotland eating more of that gorgeous seafood and exploring new tastes from the salty larder surrounding us.
Running from 28 – 30 May, the festival was established in 2009 to celebrate Scotland's seafood and honour East Lothian's seafaring history and the fishing industry of the three harbours: Prestonpans, Cockenzie and Port Seton.
Three Harbours is one of only two seafood festivals in Scotland and in its first year, it attracted over 3000 visitors in just one day. The organisers hope to build on that success in 2010, with twice as many stalls and events running across three days.
This year's seafood festival kicks off on the evening of Friday 28 May with a good old-fashioned knees up led by the Islanders Ceilidh Band. It will also coincide with the fifth birthday celebrations of its sister festival, the Three Harbours Arts Festival, which runs over 10 days until 6 June.
On the Saturday evening, an Italian seafood banquet will be held at The Prestoungrange Gothenburg, one of the main supporters of the festival. Local chefs Andrew Laurie and Colin Gillespie will be celebrating the strong links between Prestonpans and Barga Italy and are sure to make mouths water with courses including grilled sea bass in a red wine jus and freshly caught mussels with garlic and lemon.
And if great seafood isn't enough, the festival will also exhibit work by artists including Kerry Henderson, David Cohan and workshops run by community artists, Siobhan Lawson and Helen Gallogly. Children will be treated to a funfair, kite flying and other activities to keep them more than entertained.
Entry to the seafood arena costs £2 per person, children go free and free refrigeration will be provided to keep any purchases fresh while visitors enjoy the day.