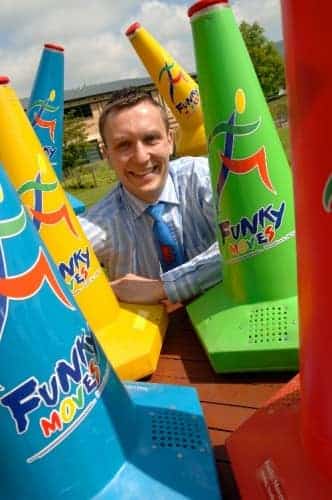 An interactive fitness game aimed at combating obesity in children has slimmed the wallets of two Dragons' Den investors by a whopping £120,000.
Theo Paphitis and Peter Jones put up the cash in return for a 50% stake in Ralf Klinnert's company Funky Moves, based in the Alba Innovation Centre, Livingston, West Lothian.
Ralf's success, following a two hour grilling by the hardnosed "Dragons" was screened last night (Monday) in the latest episode of the BBC's hit show. He left the Den with the money he came for and two new influential business partners on board.
His innovative product "Funky Cones" consists of a variety of "intelligent" cones – similar in appearance to those populating road works across the country – but each one containing smart electronics. A programmable wireless handset activates the selected application games mode.
One of the many applications is an interactive running game where the Funky Cones are placed apart and the participants have to run between the cones following a sequence of flashing lights and sounds. The concept stimulates memory, attention and coordination, while improving agility and fitness and is equally suitable for fun activity games for children of all ages and professional sports training from athletics to football and other team sports.
Theo Paphitis said, "Ralf gave us a really strong pitch for his innovative business. What was exciting for us is that Peter and I felt like young boys in a toyshop about to choose a new game which we couldn't wait to try."
Ralf Klinnert said: "Climbing the stairs and walking on to the Dragons' Den set is when it really hits you. I was asking myself, what am I doing here? But I knew this was a major opportunity for me, I had prepared well and went for it."
He confessed: "I thought I had lost it a couple of times, especially after three of the Dragon's had pulled out. Then Theo said he liked the product and Peter got out of his chair and played with the cones and said I had a 'fantastic product'. They both offered £60,000 for a 25% stake each in the company and I eventually agreed."
Ralf added: "That was an absolutely ecstatic moment I will never forget. This was the breakthrough I was waiting for that makes all the hard work and struggle worthwhile."
He added: "When I met Theo and Peter after the filming in London they told me they felt like boys in a toy shop who had just got their favourite toy, but were now going to make money out of it."
Part of the £120,000 investment will be used to develop the Funky Cones into a mass consumer product and since his Dragons' Den win in May the process is already underway.
Ralf is also in talks with an international sports equipment distributor, who specialises in professional fitness concepts for the youth sector, to explore a distribution deal for the sports and education version of Funky Cones.
Following his Dragons' Den success the cones have also been tested by 850 young people with the support of Halifax Council's Youth Activity department to outstanding acclaim by professionals and youngsters alike.
Funky Moves has been supported by Wellness & Health Innovation (WHI), operated by Innovation Centres Scotland (ICS) on behalf of Scottish Enterprise.
Janette Hughes, WHI Project Manager, said:" We were contacted by the Dragons' Den to suggest potential participants in the programme and suggested Funky Moves. We are delighted at Ralf's success. He has enormous drive and commitment to his project and this could well be the breakthrough he has worked so hard to achieve."