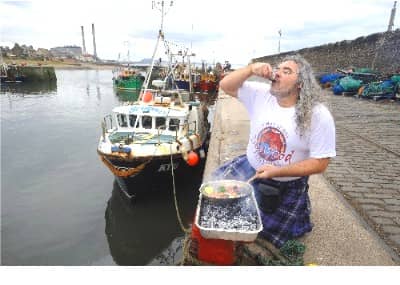 Hot Tin Roof is feeling exceptionally wise this week.
Or at least we should be, considering that four very angry wisdom teeth caused Lucy's face to swell to twice its usual size. We'd post a photograph but, quite frankly, it would put you off your dinner.
Despite an increasing reliance on Superdrug's finest painkillers, the past fortnight has been a busy one.
We took a trip down to Port Seton to launch the programme for the 3 Harbours Seafood Festival. The delicious mussels and langoustines served steaming beside the sea were a perfect start to the day (pictured).
The photocall was a great success and we enjoyed the fish puns used by the Edinburgh Evening News in their coverage of our launch.
We were also pleased to discover that Scottish investors consider cloud computing and SaaS as the top IT businesses to invest in.
Flexiant's Tony Lucas told The Scotsman why he thinks the market for cloud (and not just the one made of ash) is going to grow and grow.
Our favourite personal finance experts, Money Dashboard, also announced that the appointments of Andy Laing and Laurie Dempster to the team. We got straight on the phones and the story was covered in The Scotsman, City AM and Business 7.
And on our headphones this week: Volume Two by the delightfully poppy She & Him.